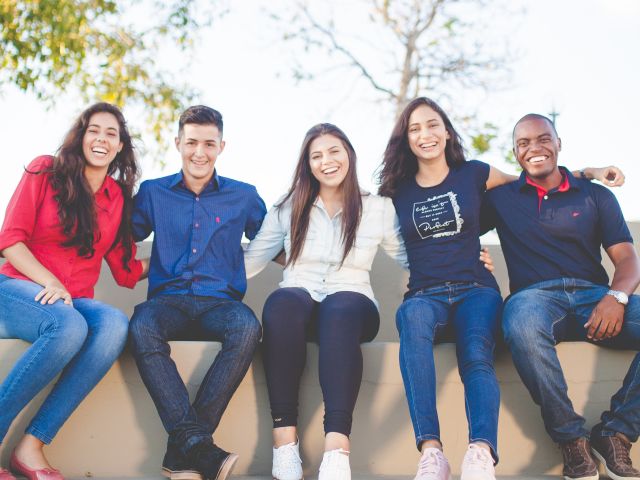 Training: Key Components to Facilitation with Youth
Facilitation is part of what makes our programs successful. Our facilitators strive to build relationships with youth, which allows us to explore "heavy" topics with a playful tone. Our focus is on giving youth the skills to develop their own insights around these topics. Rather than teaching them right or wrong, we guide them to think critically about the topics and what they mean for them.
In this 7.5-hr live, virtual course, you'll receive a companion guidebook and gain knowledge and practice with the signature facilitation tools and techniques that we use in our youth programs:
setting the tone
creating the ideal session structure
using games and improv activities to engage youth
developing group agreements
using practices like the circle to create shared accountability
The Circle runs the training whenever a group of 6 to 8 people are interested, so be sure to let us know you're interested!
Pass It On Program for Boys and Girls
Pass It On (PIO) is an after-school, cross-peer group mentorship program with intermediate students (as buddies) and high school students (as mentors). Its goal is to foster capacity for healthy relationships and support life transitions.
Young people need safe spaces to connect, to be vulnerable, to listen, and to be listened to without judgment. This simple act of meeting weekly, sharing deeply, and supporting those younger than them has a notable impact on all program participants.
Through the support of PIO, young people build confidence, self-awareness, empathy, acceptance of differences, and the ability to make better choices. The Circle offers two separate programs, one for boys and one for girls (cis, trans, and non-binary inclusive).
This program builds on the content in The Empathy Project and The Respect Project with reflection and discussion of deeper, more vulnerable topics. 
The Respect Project is an in-school program for Grades 6, 7, and 8 designed to offer students the opportunity to get to know one another better and learn about the foundational role respect plays in their lives.
Program goals are for students to a) understand and experience healthy, respectful relationships; b) become more aware of their own identify, feelings, and biases; c) develop verbal, nonverbal, and online communication skills and strategies to support respectful relationships.
Students are guided through a range of fun and engaging activities that introduce key concepts, and they are invited to share their opinions and ideas through small and large group discussions.
The Empathy Project, formerly Peace Kids, provides students in Grades 3 to 5 with the building blocks of social–emotional learning, to help them understand the value of their own stories and the stories of those around them.
Through a variety of activities, discussions, and improvisational theatre games, students explore topics such as emotional intelligence, conflict resolution, fairness, friendship, and appreciation in a way that's collaborative, spontaneous, memorable, and fun.
The program aims to equip students with some of the tools they'll need to navigate the tricky waters of their middle school years, with the long-term goal of helping to produce young people who are attuned and responsive to the emotional needs of the people in their lives, including themselves.
Community Events and Awareness
Each year, The Circle facilitates a community candlelight vigil to remember the 14 women killed in Montreal on December 6th, 1989, as part of the broader acknowledgment of the National Day of Remembrance and Action on Violence against Women. This annual event engages our youth, our partners and the broader community and is well attended. Every March, The Circle celebrates International Women's Day with a community event aimed at recognizing the importance of this day.
We organizes educational events for the community with films, speakers, and entertainment and presents educational display booths at community events.